Explore Superfly Opportunities
The first step in working somewhere you love is making sure you find the perfect location. Our current locations can be found on the map to the right. Click on the links below to view open positions for each location.
---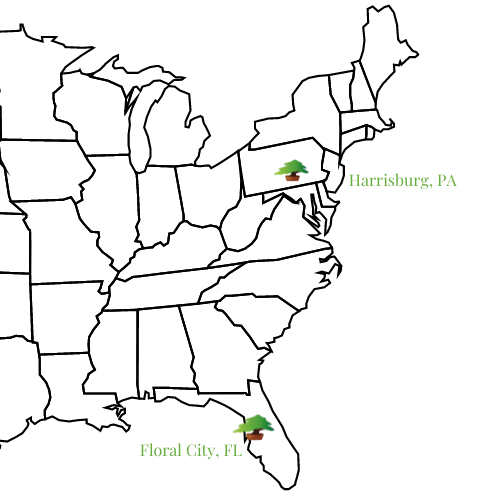 ---
Superfly Bonsai is an incredibly fun, unique environment to work in. Each location has a variety of jobs, so you'll be able to find your perfect fit here. No day is ever the same, and you'll never get bored. We believe in creating and sustaining a healthy work environment, and providing a place our employees enjoy coming to. You're valued and respected here. As a small business, we work very closely with each employee, no matter the location. We're a family here at Superfly, and we'd like to welcome you!
Superfly Bonsai (SFB) started in 2016 with a single soil mix, known as "Pro Mix". This soil quickly gained popularity and more mixes were created to meet the needs of different trees, climates, and personal preferences. Within the first year of being open, Superfly had EIGHT soil mixes and over 40 bonsai-related products for sale.

In February 2018, SFB merged with Meco Bonsai and doubled our warehouse size. In 2019, we added a production warehouse and a small nursery. In 2020, we expanded our nursery 600% and added on a huge event hall for shows and demos. In 2021, we leased an 11-acre property in Floral City, FL as a second location to grow large quantities of premium bonsai material.
Full time employees are eligible for the following benefits:

• Paid Holidays (after 90 days)
• Paid Vacation (after one year)
• Employee Discount
• M-F, 9-5 job (occasional weekends)
• Fun Family Atmosphere
• Holiday Parties